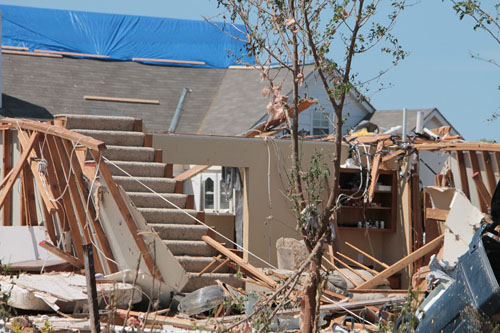 Catastrophe Services
Inspection Depot covers all catastrophe events, both large and small, and anywhere in the US and beyond.
Inspection Depot's and its management team have extensive experience in dealing with catastrophic events, as well as the oversight and management needs to implement and complete the cycle of every catastrophe from both the field and desk.
Inspection Depot uses proven strategies, policies and procedures, and IT methodologies for the successful mobilization of any team in the event of a deployment, with the ability to handle any loss, from commercial or residential large loss, to low severity.
Our network of field services staff stands ready for deployment in the event of a catastrophe and, upon first notice, Inspection Depot will commence with a deployment of the necessary resources and training needed for an event.
Inspection Depot's catastrophe response covers both major events or pocket storms.
Inspection Depot and its network of field adjusters are on call and ready for any event. All our field service staff are credentialed and ready for deployment at any time. We are able to handle all manner of claims that arise during a Catastrophe, including Property, Auto, Business Income, Personal Property, Salvage and Subrogation, and more, and will match skill sets to any issue to ensure policyholders get the response and attention they need during a storm event.
Here are some of the services offered to our client before, during and after the event.
If you are interested in receiving more information about our services, please call 1-888-589-2112 to request further information or click here for our online feedback system.
If you have comments or queries, write to us and we'll contact you as soon as we can.
call or write to us
1-888-589-2112
info@inspectiondepot.com